Welcome to my world!
I hope you enjoy my art and it inspires other creativity in yourself. However, I ask you to respect my intellectual ownership and will reluctantly take action against those who abuse my copyright.
As an untrained, largely self-taught artist I have held many local exhibitions in my home town of Adelaide South Australia since the mid-90's, but have not had my work purchased by major art galleries. So I have decided to place it in the wider sphere and ask you to judge for yourself: I'd appreciate your feedback.
Recently I held an exhibition locally to focus mainly on my environmental subjects rather than my nudes, although thanks to the foresight of the staff at the Box Factory Community Centre 59 Regent St. Adelaide I did include some nudes. I also created artwork onsite during the exhibition, some of which I exhibited at the South West Community Centre, 171 Sturt St Adelaide, while again demonstrating my art-making onsite. The exhibition was titled "Please Respect All Life", reflecting both my philosophy and the fact that most of my work is done from life…..
I have also produced a series of art cards reproducing some of my paintings, printed with 100% solar technology on recycled paper at Created2Print in Sturt St also.
I plan next to focus on promoting sales of my art, both original and in good quality photographic print form through internet avenues, so I would be glad of any suggestions.Look forward to hearing from you, or receiving your comments on my new Facebook page: search KathleenPatitsas photos.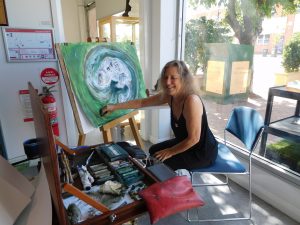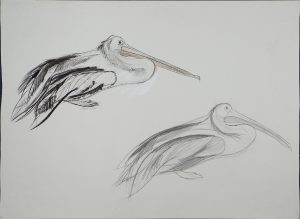 Kathleen Patitsas
Contact Kathleen here