"Please Respect All Life Anew: The Muses in an Australian Context".
Until June 2, 2022, at Box Factory Community Centre: see times on flier below.
I made these images some years ago in an attempt to understand the ancient Greeks' conception of visual art.
According to their mythology, the nine goddesses of Apollo– the Muses– represented pure beauty, as did Apollo himself.
No Muse however is associated with visual art. Did the ancient Greeks believe visual art was rather a craft or a trade, which anyone sufficiently trained could carry out, and therefore individual works did not require signatures; or rather that such artworks were not seen as individual achievements, but rather necessary offerings to the gods?
In either sense, visual art may have been seen as simply a material thing: so that even when it was almost entirely lifelike, –as in their magnificent sculptures– it modelled material reality rather than rising above it in the more spiritual sense of pure beauty.
While portraying myself depicting the Muses, I chose to do so in the context of my own Australian environment, which I believe should be our modern central concern and source of pure beauty on this continent. During the exhibition I will be drawing in situ, except Wednesdays and Fridays.
I dedicate this exhibition to the late great artist Ann Newmarch and Christopher Allen, art critic.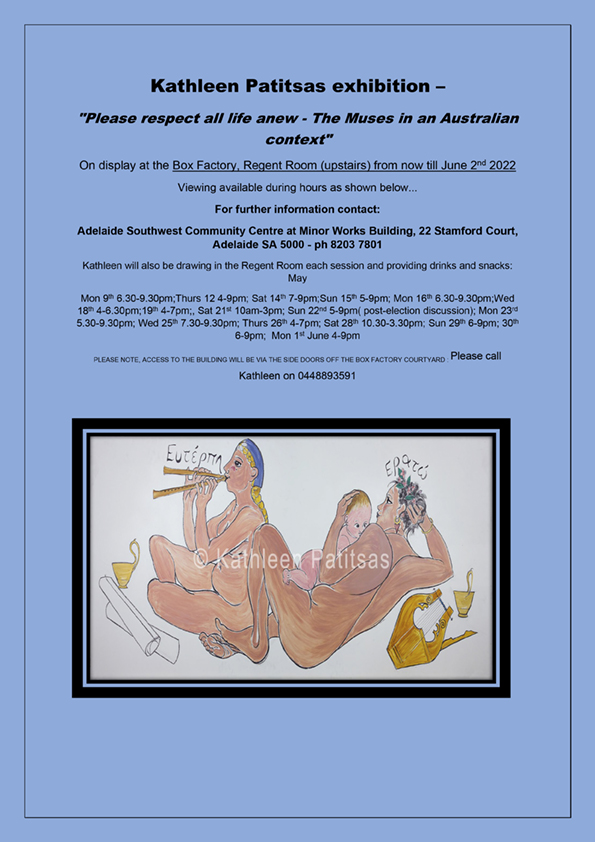 "Please Respect All Life": February 2017

South West Corner Community Centre, 171 Sturt St Adelaide
"Please Respect All Life2 ": April 2017

Minor works Building 22 Stamford Ct, Adelaide SA 5000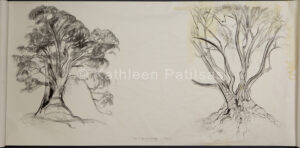 "The Olive and the Eucalypt"
Hope to see you soon, or receive feedback on my Facebook page " Kathleen Patitsas Photos" or via my email address :<kathleen@kathleenpatitsas.com>
Thank you,
Kathleen